Description
ORAMEC 0.8MG / ML 5L  drench is an ivermectin based wormer for sheep. Oramec is used for the treatment and control of gastro-intestinal worms, lungworms and nasal bots.
Active Ingredient:Ivermectin
Target Species: Sheep
Treats and Controls: Gastro-intestinal worms, lungworms, nasal bots
Administration Method: Oral drench
Withdrawal Time: 6 days for sheep intended for meat and offal. Not permitted for use on sheep producing milk for human consumption
Dosage for sheep: 2.5 ml per 10 kg of bodyweight.
Always read the label and all enclosed information for Oramec Oral Suspension before administering to animals!
Commonly asked questions about Oramec Drench
Q. Will Oramec  kill worms that are resistant to control by white drenches?
A.Yes. Oramec is routinely used in wormer rotation programmes. Also, it is often used to treat sheep that are brought in from market and neighbouring farms where the worming history is either not known or may be in doubt. It makes sense to treat all sheep with Oramec and keep them isolated, preferably on hard standing, for 48 hours before mixing them with the main flock.
Q. Will Oramec control inhibited time-bomb worms and help prevent the spring rise?
A. Yes. Treat the ewes just before you house the sheep or just prior to lambing. This will kill the dormant worms in the sheep that would emerge in the spring and contaminate pasture at the time when lambs are beginning to graze.
How sheep contract worms: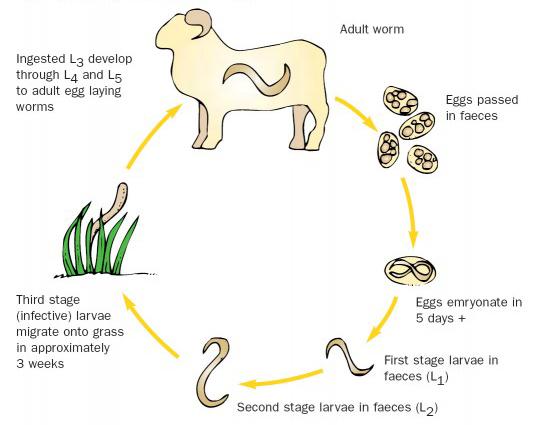 Features of Oramec
An ivermectin based wormer for sheep.
Used for the treatment and control of gastro-intestinal worms, lungworms and nasal bots.
Withdrawel period of 6 days for sheep intended for meat and offal.
Not permitted for use on sheep producing milk for human consumption